Rebuilding Event: Velious Spires and Dragon Ring
Edit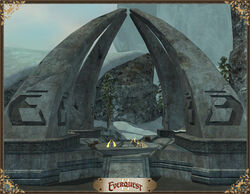 The
Velious Transportation Event
will see the activation of the Dragon Ring (druid ring) in Great Divide and the Wizard Spires in Eastern Wastes. Once they are complete players will be able to use them for a method of transporation.
According to the in-game calendar, this event is slated to begin at 12pm PDT today, July 14. The duration of the event will largely depend on how much each server contributes to their rebuilding process, but is expected to last anywhere from one to three weeks. Players can contribute by completing adventuring or errand quests!
This is a limited time event and once a transporation spot is fully completed on a server the quests will no longer be available. Take advantage of it while it lasts!
Check out our Velious Transportation Event guide for more information and a list of rewards or read more about this event over on EQ2 Players.
---
Ad blocker interference detected!
Wikia is a free-to-use site that makes money from advertising. We have a modified experience for viewers using ad blockers

Wikia is not accessible if you've made further modifications. Remove the custom ad blocker rule(s) and the page will load as expected.